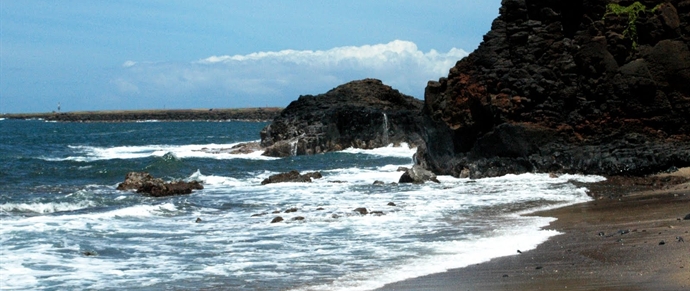 Glass Beach isn't mentioned in most guidebooks, and there are no signs directing drivers to it, but it can be a bonanza for collectors of sea glass. The shoreline of Glass Beach is covered with millions of brown, aqua, clear and blue sea glass pebbles.
You will find lot of sea glass on this beach from old bottles, flasks, windshields and windows that has been smoothened by moving ocean water and time. It takes the ocean about 10 to 30 years to create each glass frosted, jelly bean-like pebble you will find.
The glass found at Glass Beach was mainly from broken bottles and auto glass dumped by Swiss Cheese Shoreline on the western end of Kauai.
Glass Beach is best for beach combing only. Please don't take any of the glass, leave it for others like you to enjoy for many years. This beach is easy to find, just look for the large tanks of gasoline near Port Allen. A tip for husbands: make sure to bring a comfortable chair when visiting this beach with your spouse.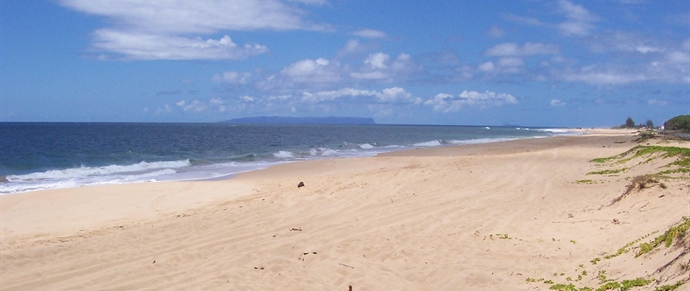 Kekaha is a private long white sand beach is is popular fishing spot also well known for great sunsets and beach combing. This is officially the longest stretch of white sand in the state of Hawaii. From this beach there is a view of Niihau Island and Lehua rock. This beach is usually sunny, and is the last life guarded beach on the west side. This beach can have strong wind at times.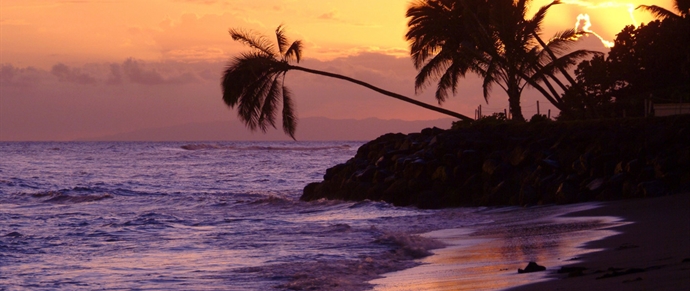 The beach is near the a small boat harbor and can be very murky. Swimming is not advised.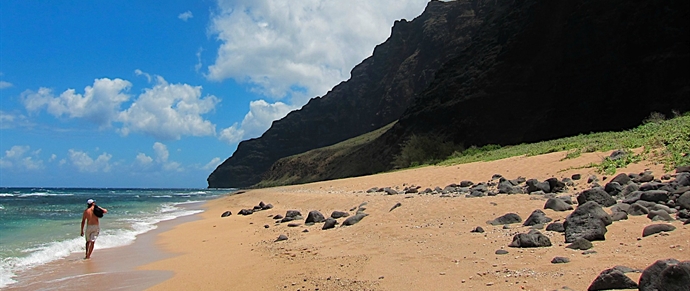 There are two legal kayak landing areas along the coast. This is one of them! Kayak landings are prohibited at all other beaches in the park, including Honopu and Nu'alolo Kai.
Kayaking also affords you a camping option not available to hikers. Beyond Kalalau Valley, there are several valleys and offshore reefs. Milolii Valley is accessible by boat only, and camping is allowed here during the summer months. Permits are required to stay overnight. However, day use landings are allowed during the summer (May 15 through Labor Day) without a permit. Milolii has a channel through the reef facilitating boat landings on the sand beach.
The only way in here is by boat! Arrange to have a commercial boat operator to drop you off and pick you up.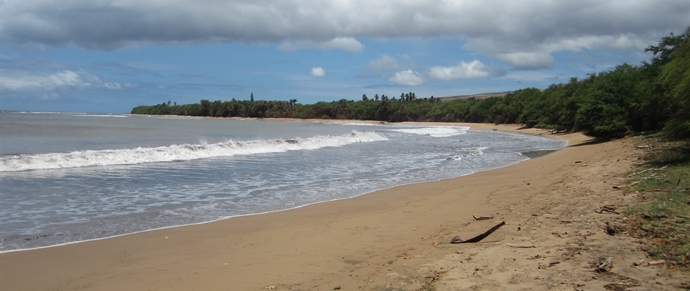 This beach is best known for it's surf break known as infinities. The nickname was given because the waves seem to ride "forever". The water is murky very silty, and the beach itself it muddy and not desirable for swimming.
This beach is really only for expert surfers or brave body boarders. The best break is on the east side of the rock outcropping. Be sure to walk along the beach as the nearby land is owned by private individuals.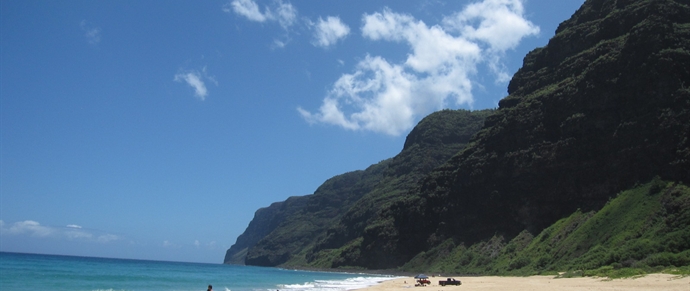 This beach's is famous for it's gigantic 7 mile white sand shoreline. When rain comes to the west shore, it usually misses this lovely beach. Try a sunset here and watch the sunset set over Ni'ihau Island.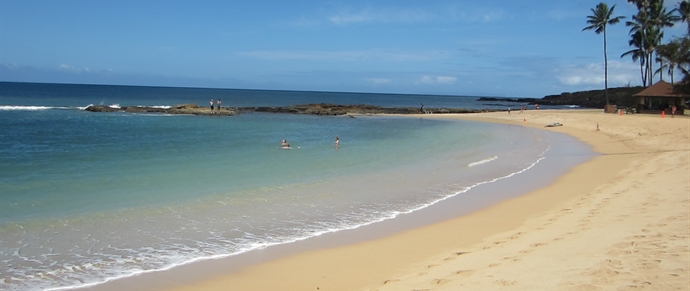 The natural flast along this beach have been used by Hawaiians for generations. Today, this site continues to be used for traditional salt making. In late spring the wells (puna) are cleaned and the salt making process runs through the summer months. Mother nature has been kind enough to create a ridge of rock between the two rocky points at Salt Pong Beach, resulting in a large lagoon area that is fairly well protected expect during times of high surf.
This beach is well known for surfing and windsurfing. Familes and children also like this beach for it's safe and calm swimming area.
Salt Pond Beach Park is a wide, reddish-golden sand pocket beach that is generally safe for swimming all year round. As mentioned at both ends of the beach are rocky outcrops; a natural rock ridge connects the outcrops, creating a small lagoon. This pool-like area is where families with toddlers usually swim. The beach is usually safe for swimming, except during times of high surf, when rip currents form in the channels between the ridge.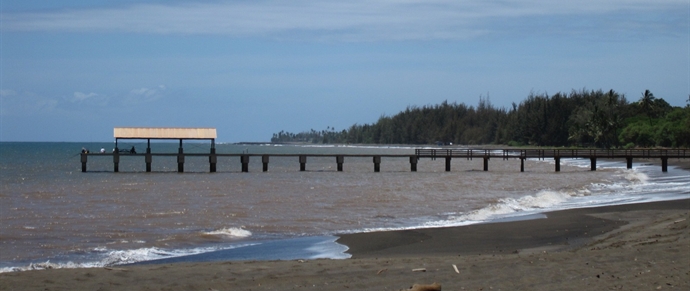 Waimea Beach is different from other Kauai Beaches. The sand is black is well known as a spectacular vantage point for sunsets over Niihau, the Forbidden Isle. The Waimea Pier and the lovely cottages along the beach take you back to a nostalgic plantation era.
Coconut palms large grassy lawns and breathtaking old growth Banyan Trees line the shore of this charming stretch of waterfront. Waimea beach is a great spot for a romantic sunset stroll.