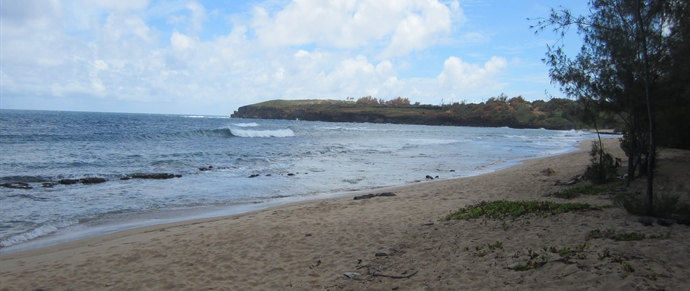 Mahaulepu Beaches, South Shore
Gillin's Beach was named for the long time engineering supervisor of the Grove Farm Company, the owners of the sugar plantation behind the beach. Gillin was best known for supervising the construction of the Ha'upu Tunnel. The half-mile-long, dirt-lined tunnel cuts through the ridge to provide direct access between the sugar cane fields north of the ridge and the Koloa Mill to the south.
Broken patches of beachrock protrude through the sand covering the crescent of Gillin's Beach. Vegetated sand dunes back the beach as well as the original house built by Elbert Gillin in the 1920s. Boogie boarding and windsurfing are popular recreational activities on this beach.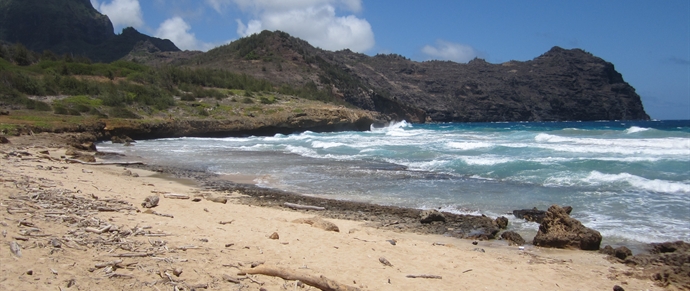 Mahaulepu Beaches, South Shore
This small pocket beach sits at the center of a large cove with a low, flat, rock shelf fronting the rest of the beach. Behind the beach are the highest sand dunes on the south shore. Adding to the rugged beauty of the area, waves have cut jagged edges, spires and caves into the lithified dunes and sea cliffs.
The rocky offshore bottom and surf preclude swimming in the cove. This shoreline is prized for its beauty and solitude. The beach is occasionally visited by fishermen, trail riders from CJM Stables and Hawaiian monk seals looking for a quiet place to rest.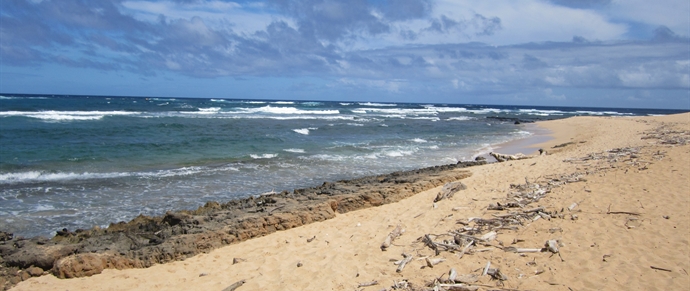 Mahaulepu Beaches, South Shore
Often there are local families here for picnics and fishing. The shoreline is covered with active and lithified sand dunes. Waves have deeply undercut the sea cliffs below the dunes. A small mushroom-shaped sea stack projects above a shallow reef next to the outer point.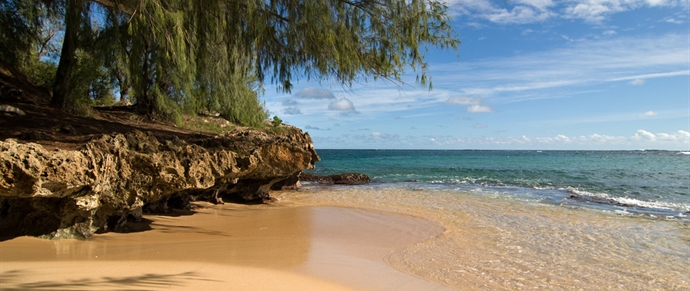 Mahaulepu Beaches, South Shore
The beach is separated into three different parts, Gillin's Beach, Kawailoa Bay and Haula Beach.
The beach offers protection from the surf in parts and can be great for swimming. Fossils of extinct birds have been found in sand dunes along the shoreline.
Mahaulepu Beach is great spot for exploring. The water is usually calm due to a protective reef and shallow water. The name Mahaulepu means "falling together," as in two warriors falling in battle.
When King Kamehameha attempted to invade Kauai in 1796, many of his war canoes were sunk during a storm in the channel between Oahu and Kauai. However, a few managed to land here on the beach. The warriors who made it to shore were exhausted. Kauai's defenders caught them sleeping near their canoes just before dawn, and slaughtered all but a few. Those who escaped, fearful of facing Kamehameha's wrath, paddled all the way to the Big Island.